Jetpack by Automattic, the creators of WordPress, have just released version 3.0 of their renowned plugin. 3.0 has many new features and tweaks. If you would like to learn more, please look at the change log located at the bottom of this post. Otherwise, you can click here to view more.
Bulk Module Management
A very common complaint was not just the number of modules activated at once, but that it would also take several clicks to find out which ones were activated. Jetpack 3.0 comes with a brand new UI. After activation, you will be presented with this screen:
How do you get to manage which modules are activated? Just click on the 'Settings' submenu in the Jetpack menu.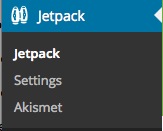 This is the new Module Editor screen:

Verification Tools
Under the Tools menu, you can now add a meta key to get your site verified by Google Webmaster, Bing Webmaster Center and Pinterest. You can find the settings for this plugin by hovering over the Tools menu and then clicking 'Available Tools'. The plugin requires you to enter in meta tags that you will receive from each service.
Google Maps Shortcode
Jetpack now contains a shortcode that integrates Google Maps Engine into your blog. All you have to do is add the shortcode [googlemaps] into your blog posts after activating the module. If you would like to learn more about this short code and how to use it, you can find the instructions here. Make sure that you enable the 'Shortcode Embeds' module in Jetpack Settings!
New Sharing UI
The Sharing module just received an update, a brand new user interface. After activating the module, you can see the new interface by clicking on the Sharing submenu item found in the Settings menu. You can see the new interface below:
Twitter Open Graph
Speaking of sharing and social networks, Jetpack now includes the ability to use Twitter's Open Graph. Open Graph is an open protocol that you can use on your website to turn your webpages into graph objects. In other words, once you activate this module and enter the correct meta tags, your pages will become integrated into the Twitter database. This means that you can also start using Twitter Cards on your website. However, Jetpack, at this time, sets WordPress as the default Twitter Card. To fix this, you can read Justin Kopepasah's tutorial.
Infinite Scroll
If you are using the Infinite Scroll for Jetpack, get ready for good news! First, the Automattic team has improved performance for the module across the board. Also, Infinite Scroll now allows you to display Custom Post Types!
Other Features
Other features include but not limited to:
New languages: Irish, Tigrinya and Fulah.
Youtube short code now allows HD playback now available
Improved performance for Infinite Scroll
Jetpack 3.0 is available to download now from the its website or from the WordPress Plugin Directory. Try it out!
Resources
3.0
New User Interface for managing modules and settings
New Module: Verification Tools
Enhancement: New look for the Sharing module
Enhancement: Multiple improvements on which Twitter handle a Twitter card will display
Enhancement: Add option to hide Google+ Authorship banner while still receiving the benefits
Enhancement: Many Infinite Scroll enhancements to improve performance
Enhancement: Infinite Scroll will use your CPT's display name instead of "Older Posts"
Enhancement: JSON API added /media/new endpoint
Enhancement: Added filter to assign new default image for Open Graph tags
Enhancement: New [jetpack-related-posts] shortcode to add Related Posts to page instead of default placement
Enhancement: Added SSO option to turn off login form completely, to use WordPress.com login exclusively
Enhancement: The [googlemaps] shortcode allows for Google Maps Engine
Enhancement: YouTube shortcode allows HD playback
Enhancement: Smoother, Faster Tiled Galleries!
Enhancement: New languages! Use Jetpack in Irish, Fulah, and Tigrinya
Bugfix: Use your browser's Back and Forward buttons when naviagating a Carousel
Bugfix: Various Related Posts fixes and improvements for added flexibility
Bugfix: WordPress 3.9: Restores ability to edit Contact Forms
Bugfix: WordPress 3.9: Restores Gallery Widget compatability
Bugfix: Ensure Markdown is kept when Bulk Editing posts
Bugfix: Improved Jetpack's Multisite Network Admin page for networks with a large number of sites
Bugfix: Ensure Sharing settings persist when Bulk Editing a post
Bugfix: Various other shortcode improvements